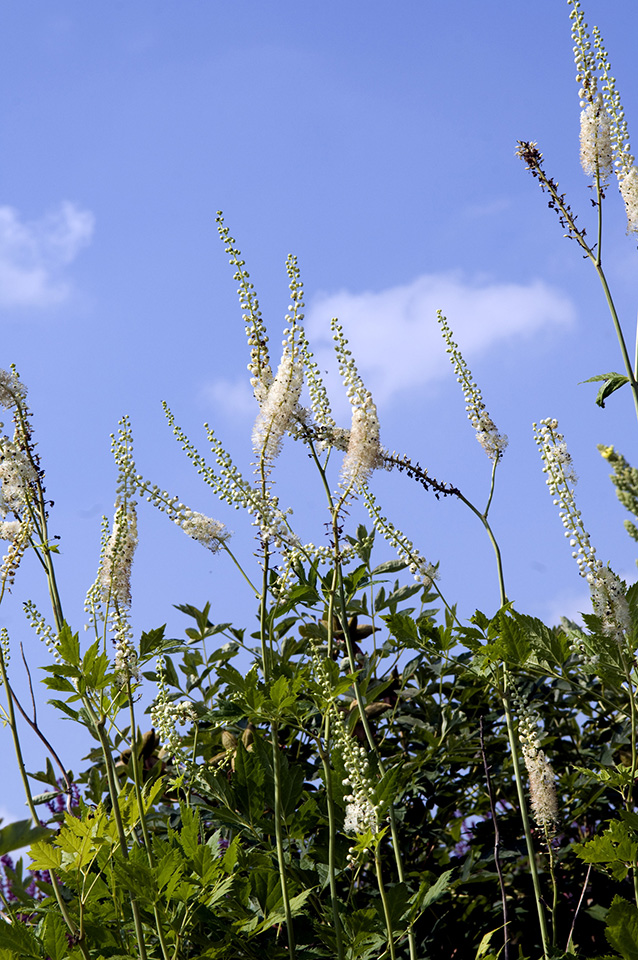 Traubensilberkerze - Cimicifuga racemosa
Übersicht wichtiger Publikationen
Traubensilberkerze Summaries
Black cohosh with or without St. John's wort for symptom-specific climacteric treatment--results of a large-scale, controlled, observational study.
OBJECTIVES: To evaluate usage pattern, effectiveness and safety of Black cohosh alone or in fixed combination with St. John's wort on menopausal symptoms in general clinical practice. METHOD: Prospective, controlled open-label observational study of 6141 women at 1287 outpatient gynecologists in Germany. Subjects were treated with recommended doses of study therapies, with treatment chosen by the participating physicians. Patients were followed up for 6 months, optionally 12 months. The primary effectiveness variable was Menopause Rating Scale (MRS) subscore PSYCHE at Month 3 evaluated by ANCOVA. RESULTS: The treatment groups were comparable at baseline, excepting the main MRS score and the PSYCHE score (monotherapy: 0.31+/-0.22; combination therapy: 0.42+/-0.23). Reductions from baseline were seen with both regimens for all variables. The changes in the primary variable remained significantly different between groups (p<0.001) when adjusted for differences at baseline with the combination therapy being superior: from 0.37 (adjusted) to 0.25 (95% CI: 0.24-0.25) and 0.23 (95% CI: 0.22-0.23) at Month 3 in the monotherapy and combination-therapy groups, respectively. The improvement by both therapies was maintained at 6 and 12 months. The rate of possibly treatment-related adverse events was 0.16%, all non-serious. CONCLUSION: The results support the effectiveness and tolerability profiles of two Black cohosh-based therapies for menopausal symptoms in general practice. They were used differentially: the monotherapy for neurovegetative symptoms, the combination for patients with more pronounced mood complaints. The fixed combination of Black cohosh and St. John's wort was superior to Black cohosh alone in alleviating climacteric mood symptoms.

Department of Gynecology at the Universitaets Klinikum Suedstadt, Suedring 81, D-18059 Rostock, Germany.

(Quelle: Briese V, Stammwitz U, Friede M, Henneicke-von Zepelin HH., Maturitas, 2007 Aug 20;57(4):405-14. Epub 2007 Jun 21.)
Black cohosh (Cimicifuga racemosa) for menopausal symptoms: a systematic review of its efficacy.
Since conventional hormone replacement therapy has fallen out of favour, alternatives are being sought by many women. These therapies include herbal preparations such as black cohosh (Cimicifuga racemosa). The purpose of this update of a previous systematic review is to evaluate the clinical evidence for or against the efficacy of black cohosh in alleviating menopausal symptoms. Five computerized databases (Medline, Embase, Amed, Phytobase and Cochrane Library) were searched to identify all clinical data that provided evidence on the efficacy of C. racemosa. Bibliographies of the articles thus located were scanned for further relevant publications. Only double blind, randomized, clinical trials (RCTs) were included in the evaluation of efficacy. No language restrictions were imposed. Trials were excluded if they did not focus on menopausal problems, they included women suffering medically induced menopause, they did not use black cohosh monopreparations, or they did not use placebo or a standard drug treatment for the control group. Six studies with a total of 1112 peri- and post-menopausal women met our inclusion criteria. The evidence from these RCTs does not consistently demonstrate an effect of black cohosh on menopausal symptoms; a beneficial effect of black cohosh on peri-menopausal women cannot be excluded. The efficacy of black cohosh as a treatment for menopausal symptoms is uncertain and further rigorous trials seem warranted.

Department of Experimental Pharmacology, University of Naples Federico II, Via D. Montesano 49, 80131 Naples, Italy. franborr@unina.it

(Quelle: Borrelli F, Ernst E., Pharmacol Res., 2008 Jul;58(1):8-14. Epub 2008 Jun 8.)
Growth inhibitory activity of extracts and compounds from Cimicifuga species on human breast cancer cells.
The purpose of this report is to explore the growth inhibitory effect of extracts and compounds from black cohosh and related Cimicifuga species on human breast cancer cells and to determine the nature of the active components. Black cohosh fractions enriched for triterpene glycosides and purified components from black cohosh and related Asian species were tested for growth inhibition of the ER(-) Her2 overexpressing human breast cancer cell line MDA-MB-453. Growth inhibitory activity was assayed using the Coulter Counter, MTT and colony formation assays. Results suggested that the growth inhibitory activity of black cohosh extracts appears to be related to their triterpene glycoside composition. The most potent Cimicifuga component tested was 25-acetyl-7,8-didehydrocimigenol 3-O-beta-d-xylopyranoside, which has an acetyl group at position C-25. It had an IC(50) of 3.2microg/ml (5microM) compared to 7.2microg/ml (12.1microM) for the parent compound 7,8-didehydrocimigenol 3-O-beta-d-xylopyranoside. Thus, the acetyl group at position C-25 enhances growth inhibitory activity. The purified triterpene glycoside actein (beta-d-xylopyranoside), with an IC(50) equal to 5.7microg/ml (8.4microM), exhibited activity comparable to cimigenol 3-O-beta-d-xyloside. MCF7 (ER(+)Her2 low) cells transfected for Her2 are more sensitive than the parental MCF7 cells to the growth inhibitory effects of actein from black cohosh, indicating that Her2 plays a role in the action of actein. The effect of actein on Her2 overexpressing MDA-MB-453 and MCF7 (ER(+)Her2 low) human breast cancer cells was examined by fluorescent microscopy. Treatment with actein altered the distribution of actin filaments and induced apoptosis in these cells. These findings, coupled with our previous evidence that treatment with the triterpene glycoside actein induced a stress response and apoptosis in human breast cancer cells, suggest that compounds from Cimicifuga species may be useful in the prevention and treatment of human breast cancer.

Department of Rehabilitation Medicine, Herbert Irving Comprehensive Cancer Center, College of Physicians and Surgeons, Columbia University, HHSC-1509, 701 W. 168th Street, New York, NY 10032, USA. le2012@Columbia.edu

(Quelle: Einbond LS, Wen-Cai Y, He K, Wu HA, Cruz E, Roller M, Kronenberg F., Phytomedicine, 2008 Jun;15(6-7):504-11. Epub 2007 Nov 5.)
Cimicifuga racemosa dried ethanolic extract in menopausal disorders: a double-blind placebo-controlled clinical trial.
OBJECTIVES: To compare the efficacy and safety of the black cohosh root extract Cr 99 with placebo in women with climacteric complaints. METHODS: A multicenter, randomized, placebo-controlled, double-blind, parallel group study was conducted in 122 menopausal women (intention-to-treat population) with > or =3 hot flashes a day, treated over 12 weeks. Two main efficacy measures - weekly weighted score of hot flashes and Kupperman Index - and secondary efficacy variables, e.g. Menopause Rating Scale, were defined. Routine safety laboratory parameters and adverse events were documented. RESULTS: The primary efficacy analysis showed no superiority of the tested black cohosh extract compared to placebo. However, in the subgroup of patients with a Kupperman Index> or =20 a significant superiority regarding this index could be demonstrated (P<0.018). A decrease of 47% and 21% was observed in the black cohosh and placebo group, respectively. The weekly weighted scores of hot flashes (P<0.052) and the Menopause Rating Scale (P<0.009) showed similar results. Prevalence and intensity of the adverse events did not differ in the two treatment groups. CONCLUSIONS: The results indicate a superiority of the tested Cimicifuga racemosa extract compared to placebo in patients with menopausal disorders of at least moderate intensity according to a Kupperman Index > or =20, but not in the intention-to-treat population as a whole.

Institute of Pharmaceutical Biology, University of Basel, Switzerland. susanne@frei-kleiner.ch

(Quelle: Frei-Kleiner S, Schaffner W, Rahlfs VW, Bodmer Ch, Birkhauser M., Maturitas., 2005 Aug 16;51(4):397-404. Epub 2004 Dec 10.)
An isopropanolic extract of black cohosh does not increase mammographic breast density or breast cell proliferation in postmenopausal women.
OBJECTIVE: The aim of this study was to determine the effects of the isopropanolic extract of black cohosh (Remifemin) on mammographic breast density and breast epithelial proliferation in healthy, naturally postmenopausal women with climacteric symptoms. DESIGN: This was a prospective, open, uncontrolled drug safety study in which baseline status was compared with status after 6 months of treatment by blinded observers. A total of 74 women were treated with 40 mg black cohosh daily, and 65 women completed the study. Mammograms were performed, and breast cells were collected by percutaneous fine needle aspiration biopsies at baseline and after 6 months. Mammographic density was quantified according to the Wolfe classification or a percentage scale. Breast cell proliferation was assessed using the Ki-67/MIB-1 monoclonal antibody. Safety was monitored by adverse event reporting, laboratory assessments, and measurement of the endometrium by vaginal ultrasound. RESULTS: None of the women showed any increase in mammographic breast density. Furthermore, there was no increase in breast cell proliferation. The mean change +/- SD in proportion of Ki-67-positive cells was -0.5% +/- 2.4% (median, 0.0; 95% CI = -1.32 to 0.34) for paired samples. The mean change in endometrial thickness +/- SD was 0.0 +/- 0.9 mm (median, 0.0). A modest number of adverse events were possibly related to treatment, but none of these were serious. Laboratory findings and vital signs were normal. CONCLUSIONS: The findings suggest that the isopropanolic extract of black cohosh does not cause adverse effects on breast tissue. Furthermore, our data do not indicate to any endometrial or general safety concerns during 6 months of treatment.

Departments of Obstetrics and Gynecology, Karolinska University Hospital, Stockholm, Sweden. angelica.linden-hirschberg@karolinska.se

(Quelle: Hirschberg AL, Edlund M, Svane G, Azavedo E, Skoog L, von Schoultz B., Menopause, 2007 Jan-Feb;14(1):89-96.)
Physiological investigation of a unique extract of black cohosh (Cimicifugae racemosae rhizoma): a 6-month clinical study demonstrates no systemic estrogenic effect.
OBJECTIVE: This study sought to confirm the efficacy and safety of the currently recognized dose of Cimicifugae racemosae rhizoma (40 mg/day) and to evaluate a higher dose and its associated physiological effects. METHODS: We conducted a controlled, randomized, double-blinded parallel group study of perimenopausal and postmenopausal women treated with two different doses (39 mg and 127.3 mg) of a unique C. racemosa preparation over a 24-week period. Efficacy and tolerability were determined by the Kupperman Menopause Index, Self-Rating Depression Scale (SDS), a global assessment of tolerability, adverse events, routine hematology, and biochemical tests. To determine if the unique C. racemosa preparation exerts its effect through an estrogen-identical mode of action, we investigated vaginal cytology and gynecologically relevant hormones. RESULTS: Both perimenopausal and postmenopausal patients tolerated the treatment well, and menopausal symptoms decreased regardless of dose (responder rate 70% and 72%, respectively). The lack of change in vaginal cytology measures indicates a nonestrogenic effect of the tested extract in this critical organ. Likewise, the lack of significant changes in the levels of gynecologically relevant hormones does not indicate an overall estrogenic effect. CONCLUSIONS: The higher dose did not exert a significantly greater effect on any end point. Thus, the currently recognized standard dose of the isopropanolic aqueous C. racemosa extract should be preferred over the higher dose. Despite the absence of a placebo group, this study suggests that C. racemosa extract is associated with improvement in menopause symptoms without evidence of estrogenlike effects.

Schaper & Brummer GmbH & Co. KG, Salzgitter, Germany.

(Quelle: Liske E, Hanggi W, Henneicke-von Zepelin HH, Boblitz N, Wustenberg P, Rahlfs VW., J Womens Health Gend Based Med., 2002 Mar;11(2):163-74.)


Black cohosh and fluoxetine in the treatment of postmenopausal symptoms: a prospective, randomized trial.
The objective of this study was to evaluate the efficacy of fluoxetine and black cohosh in the treatment of women with postmenopausal symptoms. A total of 120 healthy women with menopausal symptoms were recruited to this prospective study with a follow-up period of 6 mo. They were randomly assigned to 1 of 2 groups and were treated with fluoxetine or black cohosh. After entry into the study, patients were examined at the first, second, third, and sixth months of the treatment period. The women kept diaries in which they reported the daily number and intensity of hot flushes and night sweats. In addition, at the beginning and end of the third month, they completed questionnaires consisting of a modified Kupperman Index, Beck's Depression Scale, and a RAND-36 Quality-of-Life Questionnaire. Statistically significant differences were noted in the Kupperman Index and Beck's Depression Scale at the end of the third month in both groups compared with baseline values. In the black cohosh group, the Kupperman Index decreased significantly compared with that in the fluoxetine group by the end of the third month. On the other hand, in the fluoxetine group, Beck's Depression Scale decreased significantly compared with that in the black cohosh group. Monthly scores for hot flushes and night sweats decreased significantly in both groups; however, black cohosh reduced monthly scores for hot flushes and night sweats to a greater extent than did fluoxetine. At the end of the sixth month of treatment, black cohosh reduced the hot flush score by 85%, compared with a 62% result for fluoxetine. By the sixth month of the study, 40 women had discontinued the study--20 (33%) in the fluoxetine group and 20 (33%) in the black cohosh group. Compared with fluoxetine, black cohosh is more effective for treating hot flushes and night sweats. On the other hand, fluoxetine is more effective in improvements shown on Beck's Depression Scale.

Department of Obstetrics and Gynecology, Baskent University, School of Medicine, Maltepe, Ankara, Turkey. mesutoktem@hotmail.com

(Quelle: Oktem M, Eroglu D, Karahan HB, Taskintuna N, Kuscu E, Zeyneloglu HB., Adv Ther., 2007 Mar-Apr;24(2):448-61)


Pilot evaluation of black cohosh for the treatment of hot flashes in women.
BACKGROUND: Hot flashes cause significant morbidity in postmenopausal women, including women with breast cancer. We undertook a pilot study to estimate the effectiveness of black cohosh to reduce hot flashes. METHODS: Women who reported significant hot flashes (> or = 14 per week) were enrolled. Black cohosh was given in the form of the commercial product Remifemin. The first week was a no-treatment baseline period, and therapy was given for the subsequent 4 weeks. Hot flash data were collected by daily questionnaires during baseline and treatment weeks. Adverse effects were recorded. RESULTS: Twenty-one women completed the study. Their mean age was 56 years (range, 38-80). Thirteen patients had a history of breast cancer. Six patients were taking tamoxifen or raloxifene. Patients reported an average of 8.3 hot flashes per day during the baseline week. The reduction in mean daily hot flash frequency was 50% (95% CI, 34%-65%), while weekly hot flash scores were reduced 56% (95% CI, 40%-71%) at completion of the study. Overall, patients reported less trouble with sleeping, less fatigue, and less abnormal sweating. No patients stopped therapy because of adverse effects. CONCLUSIONS: Black cohosh appeared to reduce hot flashes and had a low toxicity. The efficacy found in this trial seems to be more than would be expected by a placebo effect (20%-30% hot flash reduction in previous trials). These results suggest that further evaluation of this black cohosh preparation with a phase III randomized trial is indicated.

Department of Surgery, Mayo Clinic, Scottsdale, Arizona 85259, USA. pockaj.barbara@mayo.edu

(Quelle: Pockaj BA, Loprinzi CL, Sloan JA, Novotny PJ, Barton DL, Hagenmaier A, Zhang H, Lambert GH, Reeser KA, Wisbey JA., Cancer Invest., 2004;22(4):515-21.)
A triterpene glycoside from black cohosh that inhibits osteoclastogenesis by modulating RANKL and TNFalpha signaling pathways.
Osteoporosis is a major age-related source of morbidity and mortality. Increased bone resorption mediated by osteoclasts is central to its pathogenesis. Cytokines, particularly RANKL and TNFalpha, are often increased under pathologic conditions, leading to enhanced osteoclastogenesis. Black cohosh (Actaea/Cimicifuga racemosa L), a popular herbal supplement for the treatment of menopausal symptoms, was recently shown to have the beneficial effect of preventing bone loss. Here, we demonstrate that 25-acetylcimigenol xylopyranoside (ACCX), a triterpenoid glycoside isolated from black cohosh, potently blocks in vitro osteoclastogenesis induced by either RANKL or TNFalpha. This blockage of osteoclastogenesis elicited by ACCX results from abrogation of the NF-kappaB and ERK pathways induced by either RANKL or TNFalpha, respectively. Importantly, this compound attenuates TNFalpha-induced bone loss in vivo. Therefore, ACCX represents a potential lead for the development of a new class of antiosteoporosis agents.

Department of Chemistry, Washington University, St. Louis, MO 63130, USA.

(Quelle: Qiu SX, Dan C, Ding LS, Peng S, Chen SN, Farnsworth NR, Nolta J, Gross ML, Zhou P., Chem Biol., 2007 Jul;14(7):860-9.)
Effects of black cohosh extract on body weight gain, intra-abdominal fat accumulation, plasma lipids and glucose tolerance in ovariectomized Sprague-Dawley rats.
Extracts of the black cohosh (Actaea/Cimicifuga racemosa (CR)) have long been used to treat estrogen deficiency symptoms in women after menopause. Recent data from randomized controlled studies have shown that CR consumption alleviates "hot flushes" and due to the lack of uterotropic effects can be a safe alternative to estrogen replacement therapy. OBJECTIVE: To evaluate the effects of dietary CR extract consumption on body weight (BW) gain, intra-abdominal fat (IAF) accumulation, plasma leptin, lipids and glucose tolerance in ovariectomized rats and to compare them with the effects of 17beta-estradiol. DESIGN: Twenty-seven female Sprague-Dawley rats were ovariectomized and fed soy-free chow with the addition of estradiol-3 benzoate (E2B) (10mg/kg, n = 10) or CR BNO 1055 extract (6.67 g/kg, n = 9). The control group (n = 8) received soy-free chow only. Weight and food intake were recorded once a week. After 6 weeks, intra-abdominal fat was measured using computer tomography and the intraperitoneal glucose tolerance test was performed. In the seventh week of the experiment animals were sacrificed, blood was collected for plasma and uteri were removed. RESULTS: Dietary CR BNO 1055 extract had no effects on uterine mass but significantly reduced serum lutenizing hormone (LH) levels (P < 0.05). Although, the average weekly food consumption throughout the experiment (calculated in g/kg of BW) did not differ between our studied groups, E2B or CR BNO 1055 treated animals gained less weight and had significantly less IAF accumulation compared to control animals (P < 0.05). E2B treatment also decreased plasma total (T-,) high-density lipoprotein (HDL-) and low-density lipoprotein (LDL)-cholesterol (P < 0.05). Plasma T-Ch levels in CR BNO 1055 treated animals did not differ from the controls whereas LDL-Ch levels were significantly higher and plasma triglycerides (TG) significantly lower (P<0.05). In the glucose tolerance test, the area under the curve (AUC) was significantly smaller in the E2B treated animals compared to controls (P<0.05). AUC in CR BNO 1055 treated animals did not differ significantly from the controls (P>0.05). Nevertheless, fasting plasma insulin (FPI) levels were significantly lower in E2B and CR BNO 1055 treated animals (P<0.05). CONCLUSIONS: In OVX rats, CR BNO 1055 extract consumption decreases enhanced pituitary LH secretion, attenuates body weight gain and IAF accumulation, lowers FPI and has no effects on uterine mass. The effects on plasma lipids seem to be more complex and are characterized by an increase of LDL-Ch and decrease of TG levels which is in contrast to the effects of estrogen.

Department of Clinical and Experimental Endocrinology, University of Göttingen, Göttingen, Germany.

(Quelle: Rachon D., Vortherms T., Seidlová-Wuttke D., Wuttke W., Maturitas, 2008 Jul-Aug;60(3-4):209-15. Epub 2008 Aug 8.)
Isopropanolic black cohosh extract and recurrence-free survival after breast cancer.
OBJECTIVE: To investigate the influence of an isopropanolic Cimicifuga racemosa extract (iCR) on recurrence-free survival after breast cancer, including estrogen-dependent tumors. METHODS: This pharmacoepidemiologic observational retrospective cohort study examined breast cancer patients treated at general, gynecological and internal facilities linked to a medical database in Germany. The main endpoint was disease-free survival following a diagnosis of breast cancer. The impact of treatment with iCR following diagnosis was analyzed by Cox-proportional hazards models, controlling for age and other confounders. RESULTS: Of 18,861 patients, a total of 1,102 had received an iCR therapy. The mean overall observation time was 3.6 years. Results showed that iCR was not associated with an increase in the risk of recurrence but associated with prolonged disease-free survival. After 2 years following initial diagnosis, 14% of the control group had developed a recurrence, while the iCR group reached this proportion after 6.5 years. The primary Cox regression model controlling for age, tamoxifen use and other confounders demonstrated a protractive effect of iCR on the rate of recurrence (hazard ratio 0.83, 95% confidence interval 0.69 0.99). This effect remained consistent throughout all variations of the statistical model, including subgroup analyses. TNM status was unknown but did not bias the iCR treatment decision as investigated separately. Hence, it was assumed to be equally distributed between treatment groups. Correlation analyses showed good internal and external validity of the database. CONCLUSION: An increase in the risk of breast cancer recurrence for women having had iCR treatment, compared to women not treated with iCR is unlikely.

(Quelle: Zepelin HH, Meden H, Kostev K, Schröder-Bernhardi D, Stammwitz U, Becher H., Int J Clin Pharmacol Ther., 2007 Mar;45(3):143-54.)